Statcomms Employee Training Program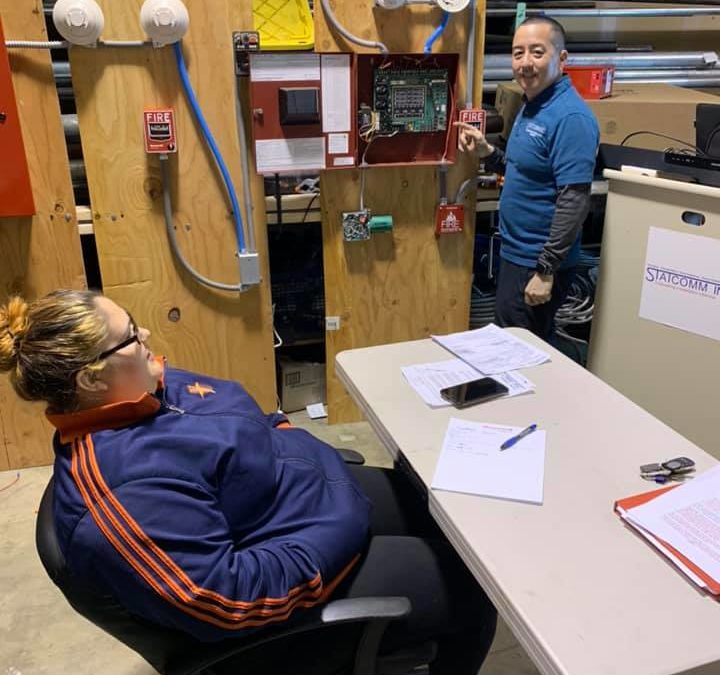 At Statcomm, we're committed to seeing our employees not only succeed but thrive. Our technician onboarding and training program is designed to ensure every technician receives at the minimum, a functional knowledge of all Statcomm services, methods and procedures.
After the introductory period, the employee then specifies which division/s they would be happiest working in. The trainer then coordinates with the manager of the department and the trainee to provide suitable on-the-job training. During this time, they will get the necessary training hours to receive certifications for their chosen trade. The individual training tracks run as follows:
Fire Life Safety Electrical Trainee program for Fire Alarm Technicians
Sprinkler Pipe Fitter Trainee program for Sprinkler Technicians
Extinguisher license for Suppression Technicians
DASMA and/or Welding Certifications for Gate and Door Technicians.
These training tracks require the trainee to undertake on-the-job training during normal working hours. Trainees also study, attend classes and undergo certification testing outside of their scheduled shifts. As an incentive, Statcomm reimburses a portion of the expense to technicians who successfully obtain their required certifications.
New trainees usually begin as inspectors, working on a team to learn about the different systems we test and service. This allows them to get a feel for the various trades and decide which one works best with their abilities and preferences. Once the trainee is comfortable with inspections, they then work assisting the installation or service departments. This allows them to earn hours toward their own certifications. Employees who amass enough experience and hours to receive state certifications have the option to work independently or as part of a team.
Every trainee watches the "Introduction to Statcomm," training module. Below is a brief overview of the primary skill set in which every technician has learned in addition to the different training tracks that Statcomm offers.
In the introduction module, trainees learn that safety is a number one priority when dealing with fire and life safety equipment. Employees are also expected to adhere to professional expectations, standards and properly represent Statcomm as a company both onsite and in public when wearing the Statcomm logo.
We also like to emphasize our method of performing inspections and documenting all findings to conform with the record-keeping requirements. Trainee technicians are taught the basics of safely working with low-voltage electrical systems. They also have an understanding of working with multifamily, municipal and transit customers and the unique challenges and expectations each carries.
At this stage, trainee technicians also learn how to work to achieve maximum effectiveness for our clients. During this portion of the training, the trainee also begins more hands-on inspections, which may include in-unit visits of apartments, condominiums, townhouses or businesses.
Although the introductory module is mandatory for all new trainees, the practical application of these principles may vary somewhat depending upon the division they are working in. The basic skills and concepts in which technicians in these divisions are expected to demonstrate mastery in are listed below.
Gates and Access Systems
*Welding Certification required for some types of work
Swing gates
Slide gates
Tilt-up gates
Door and access systems
Fire doors
Trash chutes
UL325 & safety systems
NFPA 72 – Fire Alarm Systems
*Fire Alarm "Life Safety" certification required
Honeywell Elite Dealer
Fire alarm systems
Smoke detectors
Heat detectors
Horns / Bells
Strobe lights
Control valves
Water flow switches
PIV switches
Duct detectors
CO detectors
BDA systems
Annunciators
Annual system test (must include every device)
Auxiliary system testing
Elevator recall testing
Emergency lighting testing
Monthly transfer test
Annual 90-minute burn battery test
NFPA 25 – Fire Suppression Systems; Sprinkler, Standpipe, Hydrant, Fire Pump
*Pipe Fitter certification required
Riser components
Gauges
Control valves (locked or supervised)
Alarm valves
Water motor gongs
Main Drains
General information signage
Hydraulic calculation plate
Types of systems include:
CPVC (Chlorinated Polyvinyl Chloride)
Steel
Copper
Galvanized
Stainless
Recalled systems
Title 19 Fire Extinguishers
*Extinguisher license required
State certifications
Classes of fire
How to operate
Using the correct manufacturer components
Inspections (annual, 6-year, 12-year)

Special requirements for DOT
Restaurant hood systems
Clean Agent Systems
At Statcomm, we know employees who feel supported and encouraged to find their niche within the company will perform better and experience greater personal and professional satisfaction. To learn more about the exciting career training opportunities available to Statcomm employees, or to submit an application for employment, visit statcomm.com/careers.
---
Check out our other Newsletter articles below…
Statcomm Employee Spotlight: Jeffrey Hurley
Statcomm Is Your All-In-One Fire Protection Resource