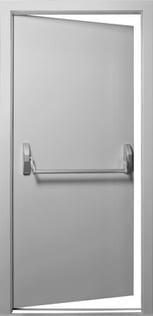 When you think of a fire door, you might think of a steel exterior access door on a stairwell, for example. While this is one variation on fire doors, they actually come in all shapes and sizes, from industrial-sized garage doors to access ports for trash chutes. The National Fire Protection Association has established standards on fire doors for residential and commercial applications, including multi-family housing and office spaces. These standards help to ensure fire and security doors will do their job and contain smoke and fire while letting people through in an emergency, thus preventing potential tragedies.
The standards governing fire doors and their placement are covered by NFPA 80, which regulates fire doors and other protectives, and NFPA 82, which specifies the requirements for trash and linen chute fire safety apparatus, including fire doors. These specifications are intended to help minimize risk of loss of life and maximize performance of fire safety equipment, should it ever be needed.
Statcomm specializes in the following services, in accordance with NFPA 80 and NFPA 82, as well as local, county, state and national fire and construction codes.
Fire Door Installs
Statcomm is an authorized dealer for some of the best-known names in fire safety and protection. Our staff can design and install fire doors which meet NFPA standards and deliver the highest possible degree of safety and protection in case a fire or other disaster should occur.
Fire Door Commissioning Services
This refers to the step following initial fire door installs. When a fire door has been properly installed and its safe and proper function verified prior to the building or new addition to existing construction opening for its intended use, then the door is said to be "commissioned," or ready for duty. The U.S. Navy uses the same terminology to describe ships which are ready for full operation.
Fire Door Inspections
Fire doors must be inspected at regular intervals; it is typical to do it during an annual inspection. The inspector or technician wants to verify they are continuing to perform as intended and that there are no worn, missing or malfunctioning parts. This is usually done as a stand-alone inspection, independent of fire sprinkler (NFPA 25) and fire alarm (NFPA 72) testing and inspections.
Fire Door Repairs
When parts become worn, broken or are missing, repairs are required to make sure the doors continue to function as intended. Statcomm is proud to offer a full suite of repair services to restore fire doors and other fire safety components to proper function.
Intake and discharges doors
Because of their nature, these devices are treated as a separate edition within National Fire Code standards (NFPA 82). These chutes are governed by their own specific codes that reflect the requirements for inspection, testing and maintenance.Included in the fire code requirements is annual testing as per NFPA 82 (Standard on Incinerators and Waste and Linen Handling Systems and Equipment). Statcomm's staff can carry out trash chute inspections, repairs and installation to assure the ongoing performance and safety of the chutes and their safety equipment for years to come.
Statcomm proudly offers Fire Door Installs, Inspections, Repairs, Intake & Discharge services to:
EAST BAY:

Union City, Fremont, Newark, Hayward, Castro Valley, Walnut Creek, Pleasanton, Lafayette, Orinda, Moraga, Alamo, Danville, San Ramon, Livermore, Oakland, Livermore, San Rafael

SILICON VALLEY:

San Jose, Mountain View, Palo Alto, Sunnyvale, Santa Clara, Milpitas,

SAN MATEO PENINSULA:

Foster City, Redwood City, Cupertino, Burlingame, San Mateo, Millbrae, Daly City, Woodside, Menlo Park, Palo Alto, Atherton, Hillsborough, Woodside, Los Altos, Pacifica, Half Moon Bay,

SOUTH SAN FRANCISCO BAY AREA:

Gilroy, Morgan Hill, South San Jose, Los Gatos, Saratoga, Santa Cruz