Inspection Stickers: Small Profile, Big Impact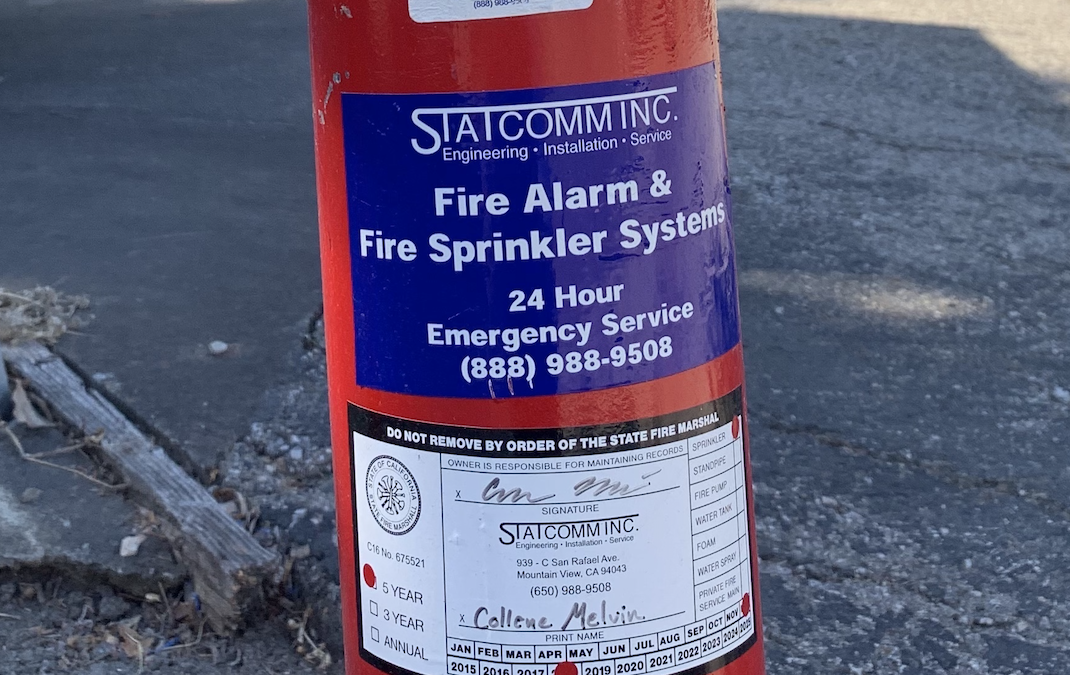 If you have ever done a walkthrough of a property to either familiarize yourself with or see what fire and life safety devices are on site, you may have noticed various dated stickers. These stickers may be on any number of fire and life safety devices such as fire panels, fire sprinkler risers, FDC's or a fire hose cabinet.
Often these quarterly or annual stickers give the date of which the property and its equipment were last inspected, this is important not only for scheduling but to help managers and owners alike remain in compliance with the law. If an emergency does occur, the records will reflect that the equipment is up to date with its inspections and in proper working order. However, if the property is past due or out of compliance the fire and life systems may not function properly. This can include damaged or painted over sprinkler heads or a frozen PIY. Making sure you are up to date and current with annual and 5-Year inspections is important for the safety of not just the property itself but for the lives of the people and animals on the property.
If inspection stickers are missing, not clearly visible, defaced or illegible, the property may receive a warning or fine, this can be dependent on the Fire Marshal or Inspector and what exactly is wrong. If the property looks as though it has not been maintained properly it could also be placed on fire watch and the property's insurance company notified of the deficiency. The actions that are taken can vary on a per-case basis and are at the discretion of the fire marshal.
The insurance company may also take administrative actions in addition to the fire marshal's orders. These could include setting a certification inspection date or refusing to renew the property's insurance policy in the event of noncompliance. If a property is past due for certification and a fire or other related life safety event occurs, the company may deny claims arising from the incident because of something as simple as outdated inspection stickers.
Of all the various testing requirements that different AHJ's use, it is becoming more common to see Underwriters' Laboratories or UL for short. They help the local authorities in setting regulations on testing and equipment requirements. While not every jurisdiction uses official UL guidelines, the Authority Having Jurisdiction or AHJ must comply with state and federal safety codes, which means any alternate testing methodology must use a protocol which meets or exceeds UL standards. As times have changed and equipment is getting more advanced more and more cities and towns are beginning to require it. Statcomm is a UL certified company, which means that we can test, inspect and issue UL certificates for properties. When a UL certificate is issued it states all the fire and life safety devices as well as the current vendor of record for them. UL is not only on fire and life safety equipment but their distinctive "UL" logo occurs on all sorts of common consumer and construction items, from pillows to pipe fittings.
Being proactive in every aspect of your fire and life safety certifications is the first step to ensuring you and your tenants are protected in the event of an emergency. Inspection stickers may seem like small things, but their importance in verifying the proper function of life safety systems and the emphasis insurance companies and authorities place upon them cannot be overstated. To learn more about inspection stickers in your jurisdiction and how Statcomm can help your property stay current on your inspections so you're ready if the worst does happen, contact Statcomm today at marketing@statcomm.com.
---
Check out our other Newsletter articles below…
CC&Rs: Is It Time For an Audit?
Statcomm Employee Spotlight: Jamal Jordan