Statcomm Employee Spotlight: Jeffrey Hurley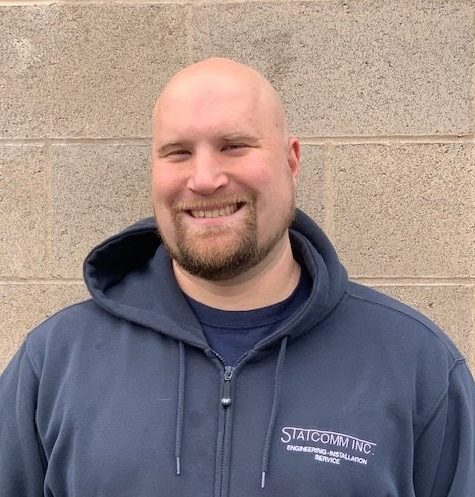 For this month's Statcomm Employee Spotlight, it is our pleasure to introduce Jeff Hurley! A drummer, Brazilian jiu-jitsu practitioner and snowboarder, Jeff is a man of many talents and roles, with a passion for excellence and a love of fire safety. Jeff has been with Statcomm for almost eight years. Currently, he manages the Fire Extinguishers, Cylinder Requalification, Ansul System Department, and also serves as the lead presenter and educator for Statcomm's Lunch and Learn team.
Jeff grew up in Burlingame and San Mateo, an only child, moving to the South Bay in 2003, a place he has called home ever since. After high school, Jeff took a job with the world-famous Godiva Chocolatier, earning his way to assistant manager for his store. He quickly decided retail and service management were not as fulfilling as he would prefer and did not offer the opportunities for positive community impact he craved.
Jeff enrolled in a Fire Protection Technology Program, working toward an associate's degree and a posting as a firefighter. In an effort to set himself apart from other candidates, he started learning about fire and life safety systems. He quickly realized he had found his calling, maintaining the systems and equipment which prevent or suppress fires and protect first responders and occupants alike.
Four years later, while working in the field at another company, Jeff learned about Statcomm. He says, "Statcomm is unique in our ability to meet the demands of the HOA/COA markets. We are more adept at navigating the challenges faced in multi-family residential properties and our ethics and integrity sets us apart from other companies." This reputation inspired him to hire on, accepting a position as a report writer for 5-year inspections in the Sprinkler Department.
Soon, he transitioned into a supervisory role in which he was able to utilize his field experience in a more hands-on manner as a project manager. He also began creating internal training and client education materials based on his experience and education, and within six months had become the lead presenter for Statcomm's Lunch and Learns. When Statcomm launched the Fire Extinguishers, Cylinder Requalification, and Ansul System Department, Jeff was ready to take the helm, having studied and worked to achieve the necessary certifications. Jeff says his favorite part about working at Statcomm is, in his words, "The family atmosphere, and knowing that we are making a real difference in people's lives every day, even if they don't see it."
When Jeff is not working, he enjoys spending time with his girlfriend, monthly family game nights and occasional touring and recording with one of the two bands he drums for. He spends the holidays in Cleveland with his mother and grandmother, vacations in Lake Tahoe with his father each year, and dreams of earning his black belt in Brazilian jiu-jitsu and teaching children's classes.
Jeff's work ethic and dedication to safety, education and a job done well are an inspiration to everyone in the Statcomm family. If you see him in the field or at one of our Lunch and Learns, be sure to say hello!
---
Check out our other Newsletter articles below…
Statcomm Is Your All-In-One Fire Protection Resource
Statcomms Employee Training Program