Statcomm Is Your All-In-One Fire Protection Resource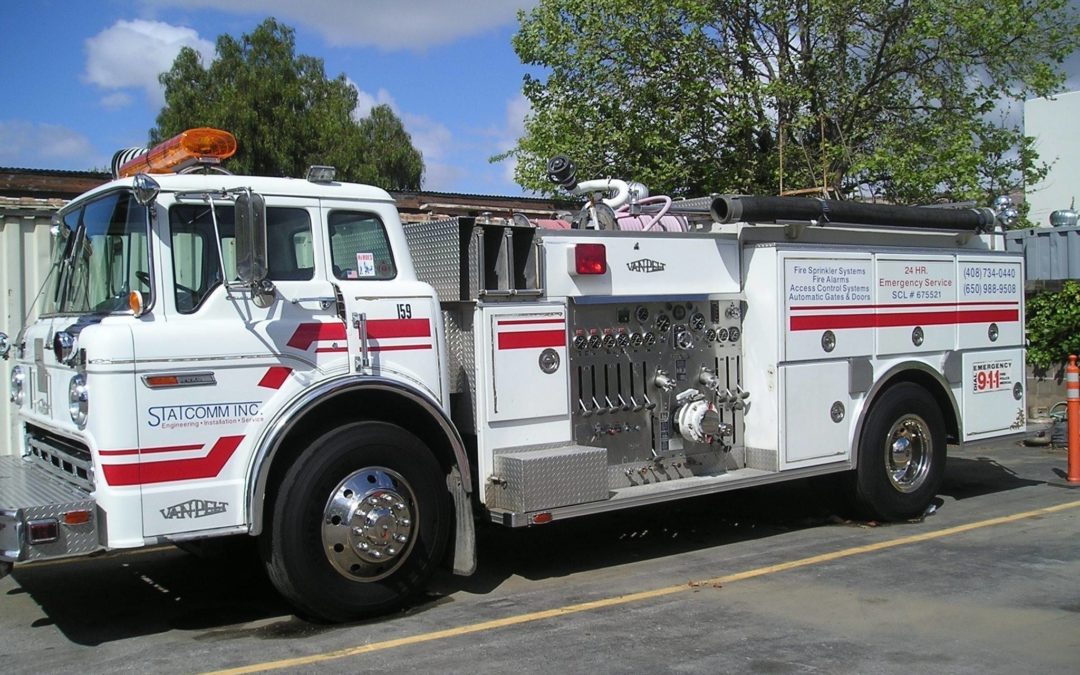 Statcomm has been proudly serving the Bay Area since 1992, including Alameda, Contra Costa, San Mateo, Santa Clara, and Santa Cruz Counties. In that time, we have become one of the Bay Area's premier life safety installation, maintenance, and inspection services, with a great reputation and an ongoing commitment to client service and safety.
Below, you can learn more about the services Statcomm provides, including fire safety and fire suppression systems, inspection services, fire protection engineering, and much more.
Statcomm's access control systems are designed to add security and peace of mind for tenants, occupants, property managers, and owners. Our range of access control offerings is designed to keep unauthorized personnel out, maximize inventory and personnel safety, and limit the damage fire and other disaster events can cause. We also offer periodic maintenance for doors!
An automatic gated entry system can help give you and your tenants peace of mind by limiting access to an area, increasing security and safety for everyone. Statcomm offers automatic gate and other access control solutions which allow you full control over who may and may not enter, including keycard- and keypad-actuated systems among other options.
In an emergency, being able to find the way out can be a literal lifesaver. Statcomm is proud to offer a wide range of self-illuminating and hardwired lighting systems which work automatically to keep you, your tenants and employees safe in case a fire or other emergency occurs.
One of the key points in fire suppression is containment. Fire requires oxygen, and fire and security doors help choke off oxygen to a space as an integral part of an effective fire suppression system. In addition, security doors allow you to limit access to part or all of a facility, giving you more control over who comes in and out. Statcomm is proud to offer a wide variety of fire and safety doors from top manufacturers which offer robust protection and peace of mind for your unique needs. We even offer fire-rated doors for trash chutes!
A fire alarm is often the first indication many people have that a fire safety problem is imminent. Properly functioning fire alarms alert personnel and tenants to danger, and can even summon the fire department remotely. Statcomm offers fire protection engineering, fire alarm panel inspection, fire monitoring, inspection and service to ensure your alarms are to the job at all times, making us one of the leading fire alarm companies in the Bay Area!
A fire extinguisher that doesn't work, or isn't right for the job, isn't going to do much good when you need it. Statcomm is proud to offer fire protection solutions from some of the biggest names in the industry, like Amerex, Badger, and Buckeye. We perform fire extinguisher service, certification, testing, and inspection, including the requalification of high-pressure CO2 fire extinguishers and 4B195 Amerex dry chemical fire extinguishers to make sure your fire extinguishers are at their best when the worst happens!
A fire alarm system that doesn't offer active monitoring is a system that only does half the job. Statcomm offers remote fire safety monitoring by trained, professional technicians who can summon help quickly to your location and pinpoint the emergency area for responders. If your fire alarm system doesn't include monitoring, Statcomm has the solution you need!
•Fire Sprinkler and Suppression
Fire sprinklers are an essential part of multi-residential and commercial structures' fire suppression systems. Statcomm's fire protection engineering services can design, install and service a new system from scratch, or retrofit an existing one to bring it up to code and full functionality.
National Fire Protection Association and AHJ specifications, as well as state and local laws, govern how often specific fire safety elements need to be inspected and tested. We offer a comprehensive suite of monthly, quarterly, semiannual, annual, five-year, and longer-term testing and inspection services, designed to ensure all aspects of your fire protection system comply with applicable laws and standards, function properly and are ready to go if they're ever needed. We proudly offer industry-leading inspection and testing for all your fire safety needs, making us one of the Bay Area's top fire sprinkler and suppression contractors. But don't take our word for it: look up "fire sprinkler companies near me" to see what our satisfied clients say about Statcomm's service!
Statcomm is pleased to offer storefront glass doors that look beautiful and can stand up to the demands of heavy traffic. These doors also increase security by resisting break-ins, severe weather and aiding in fire suppression if required. It's only one of the wide array of fire safety and access control solutions we have available. Whether your building is new construction or you want to retrofit and upgrade, Statcomm has you covered!
To learn more about how Statcomm can help you with your new construction or retrofitting project, and maximize your fire safety and access control functionality, click here to contact our Business Development team!
---
Check out our other Newsletter articles below…
Statcomm Employee Spotlight: Jeffrey Hurley
Statcomms Employee Training Program